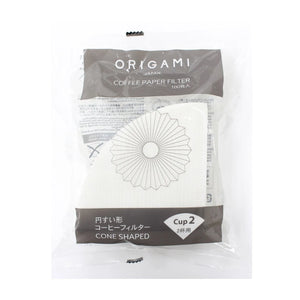 Origami Coffee paper filter
Small: 1-2 cups   Medium: 1 - 4 cups
Material: Virgin Pulp 
100 Sheets 
Filter paper made of REFINED PULP (White version):  It keeps the original flavor of the coffee grounds and makes a very robust pour-over drip coffee. NO USED PULP, DYES OR CHEMICALS ARE EVER USED IN THESE PAPER FILTERS. Completely biodegradable.

QUALITY: Each pack contains 100-count of the finest disposable cone-shaped coffee filters ever made. Made in Japan by the originators of the cone-shaped coffee maker, Sanyo Sangyo has developed the perfect amount of tiny crinkles - on BOTH sides of the paper - which produces the smoothest, sediment-free coffee - and allows water to get through the dripper much faster than conventional filter paper - so you could enjoy your coffee hotter and sooner!

UNIVERSAL CONE SHAPE: Designed in conjunction with our very own porcelain Origami coffee drippers, and ALSO fit all V60 02-style cone-shaped coffee drippers: Hario, Chemex etc. This filter creates the perfect layer of ground coffee so that water spreads throughout all the grounds - which is the key to creating a perfect cup of coffee with smooth body.