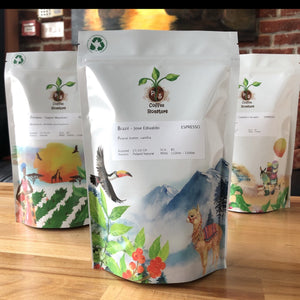 Our coffee sub club members will get the coffees we are most passionate to share each month. These are delivered straight to your door without you having to remember to order. Just let us know your preference for filter or espresso based coffees. 
Filter based coffees are roasted lighter than espresso based coffees. Filter suit manual brew methods like Aeropress, Plunger, V60 etc. Espresso more suits Stove Top/Moka Pot or Bean to cup machines etc. 
Join us before the 28th of each month and we will send your first members pack on first Wednesday of the next month. If you order after this cut off date your subs will be sent in the next monthly subs and monthly there after. This works on a pay as you go system. It continues rolling month by month and can be cancelled anytime. 
P.S Prices include free tracked courier delivery in Ireland!